The 3rd new feature in our 4 for 4 special is the Export Video dialog!!! This is no ordinary video export screen, but rather a complete set of video, audio, and image encoding features!

In no particular order, here are the details:
Export options: "

Video & Audio

" or "

Image Sequence

"
All options can be picked from the drop-downs, but can also be easily changed by simply typing (for the expert user)
Progress-bar displays the export / render progress
All of the key FFmpeg video and audio options are present
Project Type Settings:
Width
Height
Aspect Ratio
Frame Rate (fps)
Pixel Ratio
Progressive or Interlaced

Image Sequence Settings:
Video Settings:
Video Format
Video Codec
Video Bit Rate
Audio Settings:
Audio Codec
Sample Rate
# of Channels
Audio Bit Rate
Here are some screenshots of the export video dialog with various options selected: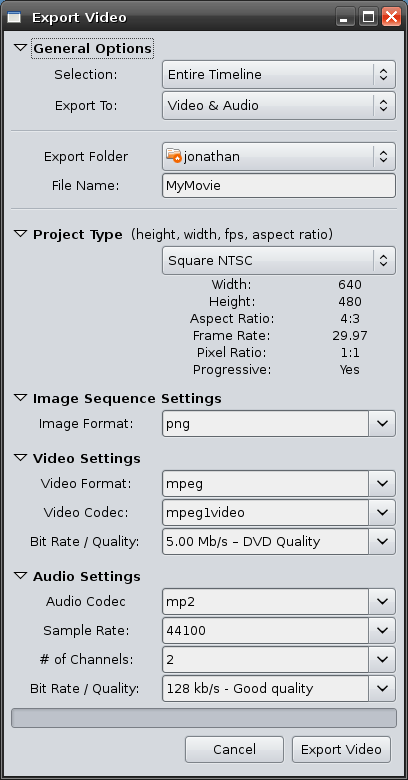 [screenshot with all options expanded]
This is a huge feature for OpenShot, and we hope you will enjoy trying it out. Stay tuned tomorrow night for our last feature in the OpenShot
4 for 4 special
!
Legal disclaimer:

OpenShot Video Editor does not contain or use any proprietary codecs. We support free and open-source codecs, such as Ogg Vorbis and Theora. However, since we use the FFmpeg library, it is possible to use any FFmpeg supported codec, assuming you have legal permission to do so.