If you would like OpenShot Video Editor to be packaged and included in Ubuntu 10.04 (Lucid Lynx), then please help us out. We have a Request For Packaging filed with Ubuntu, but we need you (our users and supporters) to mark the bug as "Yes, it affects me".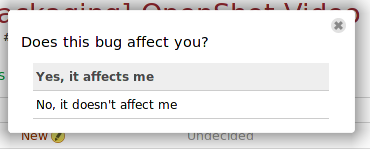 [You must be logged into LaunchPad to vote]
We want to be sure that OpenShot Video Editor is a highly requested application, and thus have the best chance for Ubuntu to include us in their repository. By marking this bug as "
Yes, it
affects me
", we should quickly rise to the top of the packaging popularity list that Ubuntu maintains.
If you are a packaging expert, and would like to help package OpenShot for your favorite Linux distribution, please join our
LaunchPad team
and help us out.