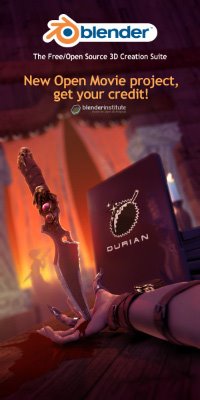 The Blender Open Movie project has officially started taking pre-orders for their next movie, Durian! If you want to have your name appear in the credits you must pre-order before September 15th.

Of course, your money is used to help offset the cost of producing the film, and in return you will receive 3 DVDs, your name in the credits, and the good feeling that comes with supporting a great open-source project, and indirectly supporting Linux Video Editing!

Even though Blender doesn't directly cross paths with OpenShot, it has a very important role in the Linux Video Editing landscape. It sends a message to the world that Linux can produce films. Professional quality films. They also promote the fact that they use Ubuntu, Inkscape, Gimp, and other open-source applications in their credits. I pre-ordered my copy. Now it's your turn. =) Learn More...