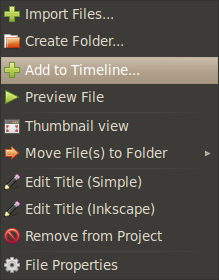 It's been a busy 2 months, and I am ready to start announcing all of the new features that will be included in the next release of OpenShot (1.3.0 is coming very soon). Of course, I can't list them all in one post, because that would be no fun. =) Expect lots of new posts over the coming days, each packed full of never before announced features!
Have you ever needed to add dozens, or even hundreds of clips to the timeline? Perhaps a sequence of short video clips or photos for a slideshow? If you answered yes, then you will enjoy our new "Add to Timeline" feature.
How does it work?
Select

-
Simply select as many files (from the Project Files tree) that you want to add to the timeline (holding the CTRL or SHIFT key), right click and choose the "Add to Timeline..." menu option. The clips will be inserted at the position of the play-head. But before they are inserted, you must select a few options.
Arrange

-
Rearrange your files and control the exact sequence on the timeline, or use the "Shuffle" button. The shuffle button will put your files in a random sequence.
Fade

-
If you would like to add a 'Fade In' or 'Fade Out' (or both), use the Fade dropdown to set your options.
Transition

-
Adding transitions is easy, just select one from the dropdown. You can also select the "Random Transition" option, which will choose a random transition between each clip. Transitions require 2 tracks, which can be configured in the "Timeline Location" section.
Enjoy

-
You have just added dozens of clips onto your timeline, arranged the sequence, applied fades and transitions, all in one easy step!
Want to help us?

If you enjoy using OpenShot and want help out our project, there are a few simple ways to help.
Translate OpenShot into your native language
Visit our Forums and help other users
Answer questions on our LaunchPad answers page. There are always unanswered questions that need some attention.
Join our team on Launchpad, and help us keep track of all the bugs, find duplicates, weed out the invalid bugs, fix small bugs, etc... NOTE: before joining our LaunchPad team, please send me a personal email and introduce yourself.
Promote and spread the word about OpenShot. There are still Linux users searching for a good video editor, and have never heard about OpenShot.